Buy best body lotion in sri lanka for the best price at Aroma Bliss Ceylon.
Experience the essence of Sri Lankan beauty traditions with Aroma Bliss Ceylon Body Lotions. Our luxurious range combines the natural treasures of Sri Lanka with the art of skincare, creating a symphony of indulgence for your skin.
Why Choose Aroma Bliss Ceylon Body Lotions?
Luxurious Formulations
Deep Hydration
Enriched with Natural Ingredients
Skin Rejuvenation
Commitment to Cruelty-Free Skincare
Elevate Your Skincare Experience
Explore our curated selection of Aroma Bliss Ceylon Body Lotion. With a variety of scents and formulations, you can tailor your skincare regimen to your unique needs, whether you seek deep moisture, soothing relief, or indulgent relaxation.
cocoa & shea body butter ,Cinnamon &  king coconut body butter and white chocolate & Jaffa body butters are best body butters for dry skin.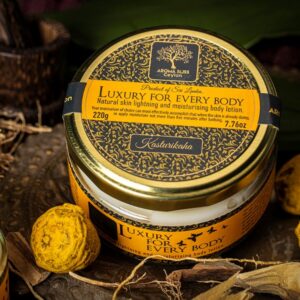 Out of stock
Rs.

4,250.00
or 3 X
Rs.1,416.67
with